The Power of Teamwork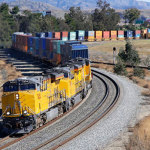 Three Critical Factors to Achieve Cutting Edge Productivity
Today's challenging business environment makes management even more critical if you will be one of the survivors.  If you do not have the best strategies for risk management, and keeping you employees at their maximum practical best, you are jeopardizing your future.
Have you ever measured the attitudes of your employees towards you, your managers, your railroad, their job and their fellow employees?  If not, then those you count on to deliver service to your customers, and produce a financial return, might be on a totally different wavelength than what is best.
So how might you find out how closely your employees are aligned with the future of your railroad?  By administering a relatively short survey you will have answers to the three critical attitudes that need to be positively aligned to achieve high performance levels.
Now you can obtain such information.  We will come to your railroad and administer the survey, and then discuss the results with you. Once you know the results, you can decide what might make sense from that point.  A trained person can drill down to get to the cause of any misalignment.  Causes brought into the open can be addressed through training and other processes to assist managers to better manage their people.  Often simple but overlooked techniques can make a world of difference to improve teamwork.
Depending upon the number of employees and geographic reach of your railroad, this process can be completed in a day or two.  All for an investment as low as $ 495.
Give us a call at (208) 287-4467 to discuss this unique opportunity.