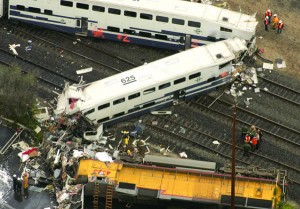 Railroad accidents can be incredibly expensive for insurance companies providing railroad insurance as well as any company with a railway insurance coverage policy. Railroad engines, cars and equipment can cost up into the millions of dollars and when you add in the cost of damage to right-of-ways and loss-of-use the bill can get staggering.
Beyond the cost of the hardware involved in a railroad accident there are often bodily injury or death claims that can add astronomical sums to the final payout. Railroad risk management is how to control these costs.
Railroad Risk Management Saves Money
An examination of railway accident reports quickly points up the fact that railway accidents are usually preventable. That's where railroad risk management comes in.
An audit by an experienced railroad accident adjuster will usually turn up obvious risks that can be quickly and inexpensively fixed by making repairs or training personnel. The cost of periodic railroad risk audits is tiny compared to the savings from preventing the huge losses and headaches of paying and handling the claims from major railroad accidents.
Railroad Risk Management In Action
Finding the Right Problem

The senior management of a logistics company was concerned that an uptick in injuries and accidents at an industrial switching operation called for an intense training program for their railroad crews.  RSI suggested that before the training, the crews be observed by our knowledgeable railroad people to determine just what training should be most beneficial.

After spending a short time observing the switching crews, it became apparent that these people know and practiced excellent safety and operating procedures with very few exceptions.  However, upon interviewing the crews it became crystal clear that the primary problem was the owner of the industry being switched had inadvertently put procedures in place that were unsafe and were causing significant accident and injury risks for the industry in additional to the switch crews.

As a result of this risk management audit, the logistics company gained the needed perspective to address the unsafe procedures with the industry owner.  In addition a set of safety rules that were pertinent to this railroad environment were developed and implemented.

Basic Training Can Prevent an Expensive Claim

After a major (seven figure) claim developed, RSI conducted a risk management review to determine if there was an underlying cause.  It was discovered that the person in charge of mechanical services did not have a railroad background or experience and was not familiar with AAR rules governing mechanical standards.  A basic evaluation of the mechanical operations would have led to a recommendation for mechanical training and changes that would have precluded the large claim.

The Defective Derail.

With the extensive increase in unit train operations, industries that have little in depth understanding of safe railroad procedures are thrust into railroad switching operations.  In one such case, a defective derail had been installed that allowed a loaded car to leave the loading track and eventually caused substantial property damage.  Through a virtual risk management inspection, the defective derail could have been discovered and the six figure property loss prevented.
Learn About Railroad Risk Management
If you would like to know more call us at Rail Services, and ask how we can often prevent railroad accidents before they happen by implementing a program of railroad risk management for your organization.